The Hall of Fame honors leaders in the fields of continuing education and adult learning,
and serves as a record of inspiration for the next generation of continuing education leaders.

Annually, adult and continuing education leaders from around the world are selected for
induction into the International Adult and Continuing Education Hall of Fame.

These individuals reflect the great diversity of adult and continuing education practice and scholarship
and the increasingly global leadership community that constitutes the IACE Hall of Fame
On this page we supply additional information about and for members of the Hall of Fame specificly in the European region.
---
Great News! Another Hall of Fame Induction Ceremony in Europe (after Bamberg 2006, Budapest 2008, Iasi 2014, and Belgrade 2019) is planned for September 28, 2022 in Cork, Ireland!
The International Adult and Continuing Education Hall of Fame will take place on Wednesday, September 28th, in the Hotel The River Lee in Cork. This day will begin with a board meeting in the morning (until noon), followed by a Hall of Fame Seminar (2-4pm). Finally, the day will finish with the Hall of Fame Induction (7pm) and wine reception in the evening
9:30am - University College Cork, Council Room, BOARD MEETING (CLOSED EVENT)
This meeting is a closed session for board members of the International Adult and Continuing Education Hall of Fame only
2pm-4pm - University College Cork, Aula Maxima, LECTURE (OPEN EVENT - REGISTRATION REQUIRED)
7:30pm - University College Cork, Aula Maxima, INDUCTION CEREMONY (OPEN EVENT - REGISTRATION REQUIRED)
This is a black tie event.

Please find here an invitation to a HOFE business meeting on 27 September 4 pm (the day before this year's Hall of Fame inductionsin the Hotel The River Lee in Cork. Please indicate your participation at our meeting - and the induction/week - before 10 September to Andre at andre.schlaefli@alice.ch.
We will have several new HOF members from Europe to celebrate this year.
As always this event will be connected to another prominent conference: The 'Learning Cities Week' is a weeklong series of events, focused on the topic of Learning Cities, scheduled to take place from Monday, September 26th to Sunday, October 2nd2022 in Cork, Ireland. The week will begin with the arrival of the attendees on Monday morning, followed by a welcome dinner in the evening. Tuesday will be filled with learning sessions hosted by ECOLHE and Adult Continuing Education (ACE) in University College Cork.
Cork Learning Cities Day is scheduled to take place on Thursday the 29th. Multiple events will take place throughout Cork City, all of which are optional to attend. The ASEM LLL HUB first in-person Council of Research Network Coordinators meeting will also take place on this day, as well as some individual research network webinars. The day will finish with the annual Alfred O'Rahilly Lecture (delivered by our HoF-member Arne Carlsen) and the Bertram Windle Award Ceremony (which will be given to our HoF-member Maria Slowey).
More information and the schedule of the event

This was our HOFE meeting Tuesday, the 15th of February, 2022: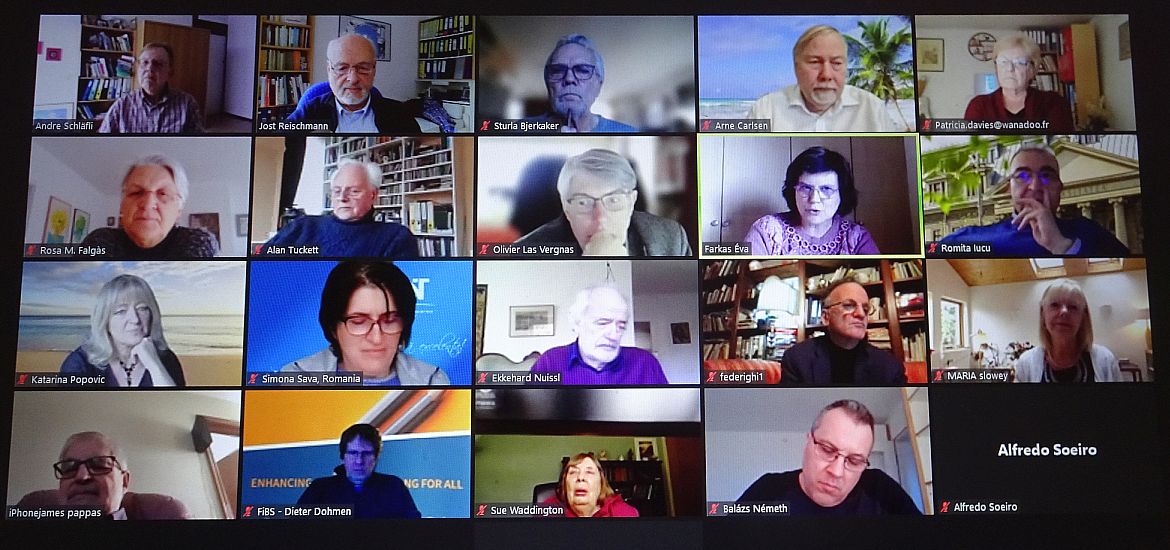 Looking back: Belgrade, Serbia, September 19, 2019: The new inductees! (more)
Welcome to the Hall of Fame!from left to right: Paolo Federighi (Italy), Jian Huang (China), Ana Krajnc (Slovenia), Jack Beetson (Australia), Eva Farkas (Hungary), Barbara Merrill (UK), George A. Koulaouzides (Greece), Peter Mayo (Malta), Sally M. Johnstone (USA); Rosa M. Falgas (Spain), Alberto Melo (Portugal), E. Paulette Isaac-Savage (USA), Gina Ebner (Austria), Regina Egetenmeyer-Neher (Germany), Dieter Dohmen (Germany), Ann K. Brooks (USA).
---
Induction Ceremony November 2017 in Suwon City, South Korea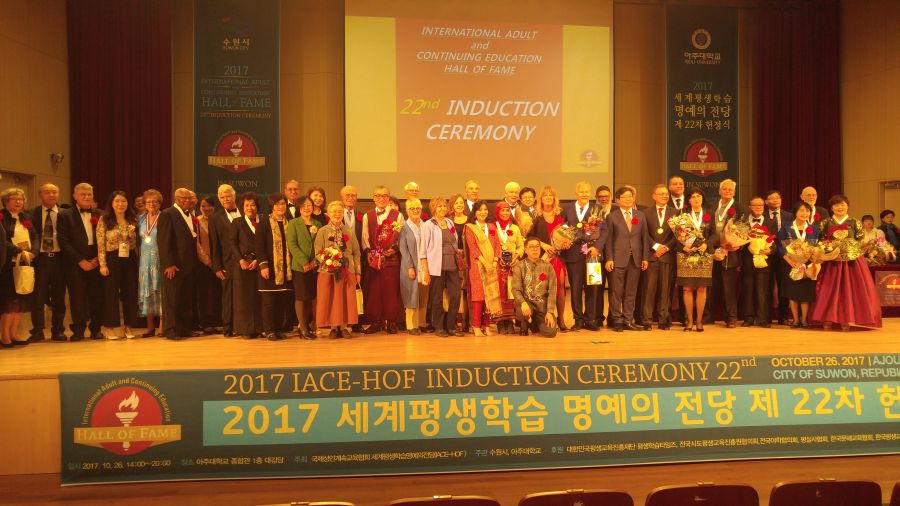 The 2017 European Inductees (Suwon City, South Korea):
| | | |
| --- | --- | --- |
| Arne Carlsen, Copenhagen, Denmark | Balasz Nemeth, Pecs, Hungary | Simona Sava, Timisoara, Romania |
The 2016 European Inductees (Orlando, Florida):
| | | |
| --- | --- | --- |
| Vladimir Gutu, Moldavia | Andor Maróti, Hungary | Sue Waddington, GB |
---
Hall of Fame Europe (HoFE) create Think Thank
At a conference in Zürich 7 – 8 September 2016 a group of European inductees in the International Adult and Continuing Education Hall of Fame met to discuss further cooperation about the future of adult education in Europe and the role of HOFE. More:

February 1 and 2, 2018: Meeting of the ThinkTank group in Berlin, Germany: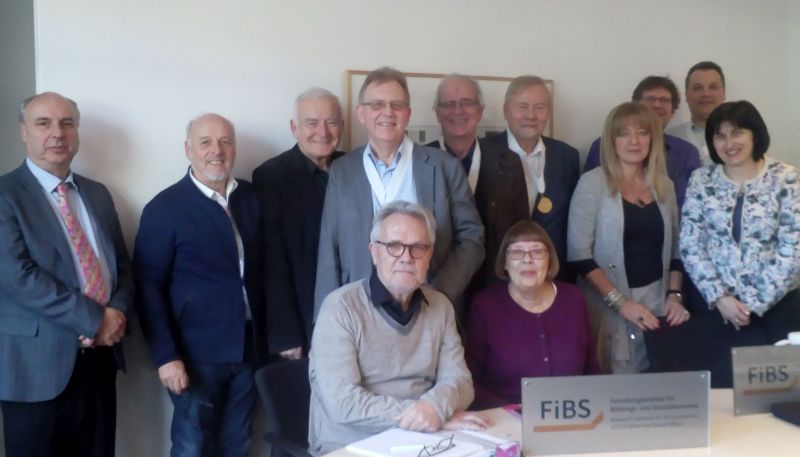 left to right: Nicholas Fox, Jost Reischmann, Janos Toth, Andre Schlaefli, Sturla Bjerkaker, Ekkehard Nuisssl, Arne Carlsen, Sue Waddington, Katarina Popovic, Dieter Dohmen, Balasz Nemeth, Simona Sava.
---
Most Hall of Fame Europeans still active in Adult Education
By Sturla Bjerkaker
sturlabjerkaker@gmail.com
During last Autumn, we presented a Survey for the European inductees of the International Adult Continuing Education Hall of Fame (hereafter HOFE-members). A letter and a questionnaire was sent to the 35 HOFE-members who are alive and inducted up to and including 2015 (Oklahoma, November 2015). After two rounds of reminders, we received 22 answers, close to 60 per cent. The Hall of Fame members from Europe covers the following countries: Denmark (1), Finland (1), Norway (1), Sweden (1), Germany (5), Switzerland (3), Romania (3), Scotland (1), United Kingdom (9), Ireland (1), Portugal (2), Serbia (3), Hungary (2), Bulgaria (1), France (1) and Holland (1)
Eleven of the respondents were inducted from the year 2010 and up to date, while eleven were inducted before 2010. It seems to be slightly equel engagement for the Hall of Fame , regardless when they were inducted.
Most of the respondents are or have been engaged at universities (15), while half so meny (7) have or have had the public or the NGO sector as theis primary base for occupation.
A quite interesting finding was that almost all the respondents still are involved in Adult learning and Education (ALE) in some way or another. On the other hand: The people still engaged in the sector would probbly be more likely to answer our survey…
The survey was made posssible due to a project financed by the Swiss Adult Education Association (SVEB) and its director, Andre Schläfli.
For the full report of the Survey

.
---
---
Since April 1, 2015 we had
visitors to this page.